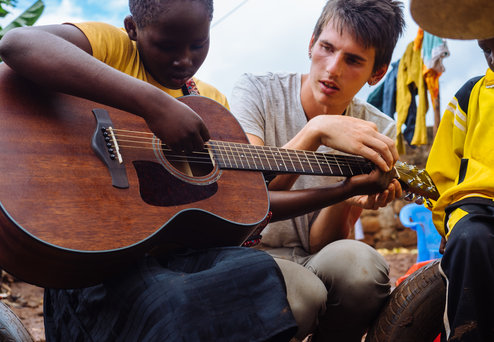 Exchange new & free hobbies as potential career alternatives
At hobbytwin, we believe that the greatest charity you can ever accord anyone is your time: It is all we have that is meaningful in this world.
In as much as we need finances to support charity programs aimed at solving food, water, healthcare, shelter and infrastructure crisis, especially in third world countries, we have to remember that all this is man-made. Money is man-made and so is everything else that we have created trying to make our lives comfortable. I am not saying being wealthy or donating money to health programs is not charity enough. However, we have to remember that the greatest gift/possession accorded to us by our maker is time on this planet. It is not money, power or influence in the society. All these things are man-made. At HobbyTwin we believe that as you teach someone a new activity, you are adding real value not only to their lives, but also to your life. You could be giving them a new career option, leading them away from a path of depression, stress or evil, and also passing unto them mastered problem-solving skills among so many other advantages. So please feel encouraged to teach more than you want to learn. Do it with someone and spread more love, acceptance and a new friendly relationship. Besides, it is an activity that you are already good at and find it gainful and enjoyable. Do you want to take some time and perfect it or for the purposes of just raising your spirits but you have no one to do it with? Why don't you take on an apprentice who is interested in learning exactly what you are passionate about? You enjoy doing it right? Why not do is with an inquisitive student? This way you shall have companionship, make a new real friend, impact your knowhow of the skill to this party and get to enjoy the fulfillment that comes from watching them do the skill exactly the way you teach them. There is no greater feeling in the value. It is a the greatest win of all in the world.
At HobbyTwin we believe that generosity should not only be measured in terms of finances or other material gifts; but generosity should first and foremost be measured in terms of the time one sacrifices and invests it towards helping other become better versions of themselves: Measured in terms of value that we add to our neighbors. Teach them what they are interested in learning if you are already good at it. Take your time to point them in the right direction, and do not say you do not have time. You do not have to take time off your working schedule. HobbyTwin only requests that you take on an apprentice when going to pursue a fun activity. It doesn't have to be a one on one affair, it can be a group activity and invite a neighbor who might also appreciate your leisure activity. Who knows, you just might give them an alternative career option changing their lives and that of those around them.
2ND
Times is the greatest gift we have in this world; hence, by default, time is the greatest gift or the greatest form of charity you can ever accord anyone in this lifetime. Giving money is great, but time is the greatest you can ever accord anyone coz its all that we have. Everything else in this world is man-made, but time is the only gift we were given by our makers, and it's the only question you will be asked when you leave this earth by your conscious on your death bed. Did you make yours count? Did you use your time in this world to impact other people's live more help the, become better versions of themselves? This is a regret you do not want to have on your death bed.
When you spend a little chunk of your time teaching someone something they would like to learn, you are already giving to charity cz you are giving a piece of your greatest possession you have in the world; time. There is actually nothing more fulfilling that giving to a stranger or teaching a stranger something they are really passionate about and then a few moments later you watch them do exactly what you teach them. There's just something about that moment. Imagine teaching a street kid something you are already passionate about so you will also be having fun e.g painting or drawing, and they end up becoming the best painters of their lifetime, making a living from that skill. You will have given the best charity of your lifetime on this earth, because you will not have given to this one painter, you will have also given charity to his future wife and kids if he uses that skill to put food on the table. This is a win win situation; you as the teacher you will have served on earth and by the the time you get to your deathbed and remembered this situation you will find fulfillment and peace knowing you positively impacted another person's life in this lifetime.
HobbyTwin seeks to address many other problems as discussed at www.hobbytwin.org and they include:
Free skills/free education
Self discovery & Self Awareness
Become an elite problem solver
Cure & manage lonesome lifestyles & illnesses
End Poverty
Promote Unity in the neighborhoods
Manage racism & tribalism
Learn from the dead before burying them
Peace, fulfillment and tranquility at death.
REM: "You cannot teach everyone, but everyone can teach someone something" & "We are all experts in our own niches, and everyone can teach you something you do not know"
Our message is very simple; take on apprentice who would like to learn an activity that you are already good at. In exchange you get companionship, pass-on your skill, perfect your own skill as you instruct, and your apprentice might just learn something new from you. You just might start a lucrative neighborhood tradition.
Despite the UK being named Europe's most generous country last year, new data from the Office for National statistics has shown that volunteering for charities and other organisations in the country declined by 7% in the three years to 2015. Furthermore, over the past decade there has been a 15.4% fall in the total number of regular hours dedicated to volunteering, dropping from to 2.28 billion from 1.93 billion hours.
This, according to the Office for National Statistics, resulted in a loss of more than £1 billion between 2012 and 2015.
This downturn doesn't show the whole picture, however: the ONS also found that more young people are getting involved with volunteering initiatives. And that though the amount of time spent volunteering has declined, more people are signing up to volunteer.
From my recent research on volunteering and giving to charity, I have found that people say they are substantially more willing to travel across the country to work on projects which mean a lot to them. Volunteering has declined considerably over the past decade in rural locations but while participation in "traditional" forms of associations – for example, attending church or chapel and taking part in their charitable projects – has fallen, volunteering in the heritage industry has increased.
Some people volunteer to relax from a highly demanding job, escape from their lives and to participate in an activity which is not available in many towns and cities. Some also do it to maintain links to an area where they once lived or visited during childhood.
I've also found that volunteering is often seen as a way to make new connections. This is particularly prominent within the heritage sector where a significant proportion of its volunteers are either retired, or near retirement age. Their participation can help them maintain a social life, facilitate social connections, create new networks, and bridge the gap between employment and retirement.
Quite often numerous members of the same family take part in one volunteering activity too which becomes a family tradition. One participant has told me that his daughter, son-in-law, two nephews and three great-nephews all work with the Ffestiniog railway. And that "the whole atmosphere of the railway is of an extended family; other volunteers find the same thing".
Just like the informal volunteers, who help their neighbours or local community, the formal railway volunteers find a community and communal spirit in the organisation. While they may not be related by blood or marriage, volunteers' strong friendships often results in feelings of family, belonging, camaraderie, community, and identity. As another volunteer said:
It is fantastic sharing a hobby and interest with people who feel and enjoy the same things. I suppose in a way, it is seen as a peculiar hobby to outsiders, but there is a great sense of community and communal spirit amongst us, we are a team, probably a dysfunctional one, but a team nonetheless.
The truth is that facts and figures could never really represent the true picture of volunteering in Britain.
Whether formal or informal, HobbyTwin believes in using one's their free time, or fun to make a difference in the neighborhoods no matter where one travels to in the world.
Hobby-volunteerism can be defined as using volunteering as an outlet for your talents which for many people is artistic expression.  What better way to enjoy giving back than to turn your artistic gifts into a volunteer role?!  No matter what artistic medium you use—whether it's dance, writing code, bicycling, woodcarving, gardening, mind teasing boardgames, music, fine arts, or knitting— you can turn your hobby into an opportunity to give back to your neighborhood and to those around you no matter where you are located in this world!
Hobby-volunteerism can also be a rewarding way to enhance your portfolio as you perfect your own craft/interest.  This article is dedicated to all you creators looking to use your passion for art to make the world a better place. Here are a few ideas and if you are the only one on HobbyTwin right now, encourage your neighbors to join as well and lets try making the world a better place by sharing our skills with those around us, and during our free time. The advantages are limitless, with the greatest being freee education,  giving to charity, knowing your neighbors over a common fun activity among many others.
1. Graphic designer —> If you are a graphic designer, you could use your flare for web design to help a nonprofit or start-up company revamp their website homepage, printed materials or branding. Better presentation will help attract more support to their cause.
2. Photographer—> Are you "quite the photog"?  You could volunteer to take photos at community events, take photos for menus of a new restaurant, or take photos of animals needing homes at an animal shelter like the SPCA.
3. Knitter —> For all you knitters out there,  the Knitted Knockers is a group that makes handmade prosthetics for women who have undergone mastectomies.  Unlike other prosthetics, these are comfortable, easily adjustable to the individual, and provided for free.  Or maybe a local hospital would like blankets for people undergoing treatment.
4. Fashionista—> Maybe you have a passion for fashion. You could volunteer as a wardrobe consultant with Dress for Success, a nonprofit that helps women getting back into the workforce to select professional articles of clothing and accessories to ensure that when they start work, style will be the least of their concerns.
5. Painter—> Why not volunteer at paint nights at a senior's home or at a homeless shelter? What an excellent way to share your talents which those who could use it most! Or consider donating your work to charity auctions and see just how much money your talents can raise.
6. Musician—> Why not use the transformational power of music to make the world a better place?  If you are already part of a band, reaching out to a nonprofit organizations hosting an event is great way to get your name out there!  You could also use the healing power of music to help patients in hospitals feel better by volunteering with Musicians on Call.  If you love kids, Revolution of Hope is an after school program that fosters hope and musicality in inner-city youth.
7. Actor—> If you have  passion for the theatre, you could volunteer as an usher for a local performance.  The International Fringe Festival needs volunteers to help them put on a colourful array of dramatic and artisan performances throughout the year.  If you're looking to make a name for yourself as an actor, why not volunteer to be part of a cast or crew for an independent, low-budget film?!  If you are a clown at heart, you could don your red nose on a trip to the local children's hospital. Laughter is the best medicine, after all!
8. Quilter—>Are you into quilting?  You can volunteer your unique talent by becoming a part of Quilts of Valour, a Canadian nonprofit that gives handmade quilts to members of the Canadian Forces.  What a fun and creative way to support our troops!
9. Dancer—> If you're a dancer then you know just how much work it is to put on a polished dance recital. Many dance studios would benefit from volunteer ticket collectors, concession sales, and backstage chaperones.  You could teach youth how to get their groove on by volunteering with The Footprints Dance Project.  This nonprofit enables children facing economic, physical, and social barriers to be given the opportunity to express themselves through dance.
10. Culinary Arts—> Would you like to help kids become mini-chefs? Now you can, by volunteering with the Growing Chef's volunteer organization.  Pass on your knowledge of growing and cooking your own food to perfection to kids eager to learn!
As discussed in our blog on the five traits of a positive mindset, using your strengths and virtues for the greater good is scientifically proven to increase your happiness! As the saying goes "love what you do, and you never work a day in your life."  Why not use volunteering and your unique gifts as a method to passionately give back to society, while at the same time developing your artistic talents and portfolio?  In the comments below, we at GozAround would love to hear what kind of hobby-volunteerism you are excited to start!
(Visited 24 times, 1 visits today)